To register for any auction, simply click on the green Register to Bid button where the catalogue is listed, or directly on the catalogue.
On the registration page, you'll need to:
Sign into your account.

Verify your details.

Choose/add your card.

Choose your registration type.

Choose whether you would like to receive update emails from the Auctioneer.

Click Register to Bid.
If you choose the FREE registration type, you may see a 10p deferred payment on your bank statement.
Once you have successfully registered, the green 'Register to Bid' button will then change to a 'Bid Now' button. Now you can leave Autobids before the sale.
The day of the auction, you will also see a Bid Live button, however this will show as Bid Now until this point.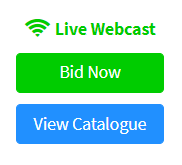 If you cannot see a Flat Fee option, please double-check to see if the auction you are registration for is TIMED. For timed auctions, only the FREE registration type is available.